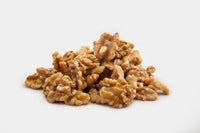 Walnuts are an exceptionally nutritious nut and make a great addition to any dish! From stir fry to salads to dips, our raw Walnut Halves or Walnut Halves & Pieces provide you with a fresh flavor and make it easy to enjoy them in a variety of ways. 
To say that walnuts are a nutritious food is a bit of an understatement. They provide healthy fats, fiber, vitamins and minerals among many other benefits. They are heart healthy, rich in antioxidants, a super source of omega-3's (alpha-linolenic acid, ALA), support weight control and support healthy aging! Order your Walnuts today.
Order in "packs" and save 10%! We currently offer "3 pack" and "5 pack" options. If you'd like larger quantities, contact us via email and we will do our best to accommodate your request.