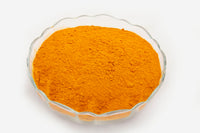 Turmeric Powder has long been used in the Middle East, India and Asia to season & add flavor to curries, meats and other dishes. A beautiful yellow / gold in color and with a gingery yet peppery taste, Turmeric Powder is as versatile as it is healthy.
Historically known for its anti-inflammatory effects and antioxidant properties, Turmeric Powder is also thought to help with brain function & lower the risk of brain diseases, heart disease and Alzheimer's disease. 
Order in "packs" and save 10%! We currently offer "3 pack" and "5 pack" options. If you'd like larger quantities, contact us via email and we will do our best to accommodate your request.