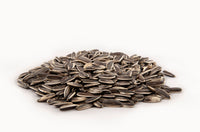 We carry several types of Sunflower Seeds in either Large or Jumbo sizes. We have Raw or Roasted & Salted options as well as the hard to find Russian Sunflower Seeds, which are a vibrant black in color and are smaller compared to its American counterpart. 
Regardless of the type or size, Sunflower seeds pack a solid health punch! They are high in Magnesium, Selenium, Iron and Vitamin E. Additionally, Sunflower seeds have anti-inflammatory benefits and may aide in the prevention of cardiovascular diseases. 
Order in "packs" and save 10%! We currently offer "3 pack" and "5 pack" options. If you'd like larger quantities, contact us via email and we will do our best to accommodate your request.