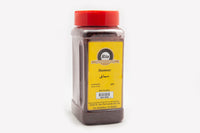 If you've ever dined in a Persian restaurant, then you are surely familiar with the beautiful, dark red  / purple powdered spice known as Sumac that finds itself on so many great dishes. Sumac is made from ground up berries of the Sumac plant and packs a sharp wallop of tart, lemony goodness. 
Sumac has been around for thousands of years and is a spice that every kitchen should have. Most commonly used with Kabob & Za'atar, its also great to spice up your hummus, popcorn, salads and Bloody Mary's. Store it like you would any other spice, in a closed container at room temperature. 
Order in "packs" and save 10%! We currently offer "3 pack" and "5 pack" options. If you'd like larger quantities, contact us via email and we will do our best to accommodate your request.