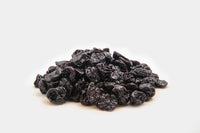 If you've never had our sweet, full of flavor & plump Dried Red Tart Cherries, we suggest you add a bag to your cart immediately! Tart Cherries are very versatile. You can use them for snacking as part of your trail mix or granola bar, for baked goods as part of a batter or a topping on your favorite dessert or sprinkle them on your salads, pastas and other dishes to add a sweet and tangy flavor! On top of all that, you don't have to feel guilty while eating Dried Red Tart Cherries because they have a host of health benefits. They are rich in antioxidants, potassium, vitamins C and B and have anti-inflammatory properties! 
As for storing your cherries, you can store them under refrigeration or freeze them for up to 1 year.
Order in "packs" and save 10%! We currently offer "3 pack" and "5 pack" options. If you'd like larger quantities, contact us via email and we will do our best to accommodate your request.