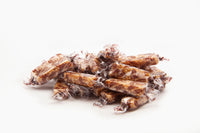 Enjoy the sweet combination of honey and sesame with our Honey Sesame Crunch Bites by Joyva. Individually wrapped for your convenience, these savory crunch bites make the perfect on-the-go snack, as an addition to your snack table at parties or keep them all to your self!
Store at room temperature for up to 6 months. 
Order in "packs" and save 10%! We currently offer "3 pack" and "5 pack" options. If you'd like larger quantities, contact us via email and we will do our best to accommodate your request.