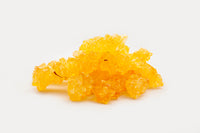 Rock Candy, also called Sugar Candy has long been used by Iranians, tracing its origins back to the 9th century and the town of Isfahan, Iran. Now popular all around the world, Rock Candy is most commonly dissolved in tea to add a sugary flavor and is a unique part of tea culture in Iran. It is also a common ingredient in Chinese cooking, used in their teas, desserts and liquors, as well is Mexican culture, most often used in the Day of the Dead celebrations to make sugar skulls. 
We carry several variations of Rock Candy, including Saffron on String, White on String, White Pieces and Yellow Pieces. 
Order in "packs" and save 10%! We currently offer "3 pack" and "5 pack" options. If you'd like larger quantities, contact us via email and we will do our best to accommodate your request.