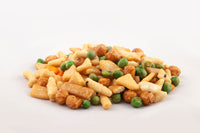 Rice Crackers are the ultimate party snack. Put these out during your friendly poker game, pool party or birthday bash, just know that there wont be any left after it's all said and done! 
We carry two different variations, a Hot & Spicy Mix as well an Asian Mix. Enjoy them both today.
Order in "packs" and save 10%! We currently offer "3 pack" and "5 pack" options. If you'd like larger quantities, contact us via email and we will do our best to accommodate your request.