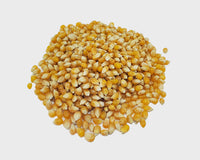 Feeling nostalgic for some good ole movie theater popcorn? Look no further than our delicious Popcorn Kernels. Perfect for slumber parties, birthdays or movie night!
Its best to store the popcorn kernels in sealed plastic or glass containers in a cool, dark, dry location for up to 1 year.

Looking for interesting recipes and direction for stove top popcorn?
Visit https://cookieandkate.com/perfect-stovetop-popcorn-recipe/
Here is their recommendation for the best way to prepare stove top popcorn
How to Make Stove Top Popcorn

Use a good, heavy-bottomed pot.

 

Cheap pots don't distribute heat evenly, and you can end up with hot spots that burn the popcorn.
Don't crank the heat up too high.

 

It's too easy to burn oil at temperature higher than medium heat, and if you catch even a whiff of smoke coming from the pot, your popcorn is going to taste burnt.
Start with two popcorn kernels to gauge the temperature.

 

Once those pop, your oil is hot enough. Add the remaining kernels and remove the pot from the heat for 1 minute. This primes the popcorn to pop without burning the oil.
Tip the lid ever-so-slightly while the popcorn is popping.

 

That way, the popcorn doesn't steam itself in the pot and lose crispness. (See photo above.)
If the popcorn starts overflowing the pot:

 

Simply remove the lid and tip the excess popcorn into a bowl. Return the lid and return the popcorn to the heat until popping slows.
Season with salt carefully.

 

You can always add more, but you can't take away too much.
Order in "packs" and save 10%! We currently offer "3 pack" and "5 pack" options. If you'd like larger quantities, contact us via email and we will do our best to accommodate your request.