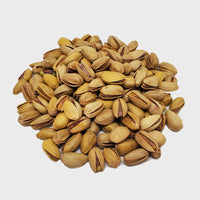 Our Imported Pistachios come from the Middle East where pistachios are a way of life! Thinner and longer in shape, these imported Pistachios have a distinct flavor that will make you reach for more every time. 
Pistachios have been consumed by humans in Central Asia and the Middle East as early as 6750 BC. They are the perfect snack as they are low in calories and are an excellent source of protein, antioxidants, fiber, vitamins, minerals and are beneficial for our eyes and our gut health. 
Order in "packs" and save 10%! We currently offer "3 pack" and "5 pack" options. If you'd like larger quantities, contact us via email and we will do our best to accommodate your request.