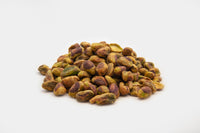 Our California grown, Raw & Shelled Pistachios, are the perfect grab & go healthy snack, whether you want to eat them before a workout or a long hike, or have them at your desk during the never ending work day. You can sprinkle a handful of these shelled pistachios on a salad to add some flavor and they're a great source of protein for our vegan and vegetarian friends! 
Pistachios have been consumed by humans in Central Asia and the Middle East as early as 6750 BC. They are the ideal snack as they are low in calories and are an excellent source of protein, antioxidants, fiber, vitamins, minerals and are beneficial for our eyes and our gut health. 
Order in "packs" and save 10%! We currently offer "3 pack" and "5 pack" options. If you'd like larger quantities, contact us via email and we will do our best to accommodate your request.