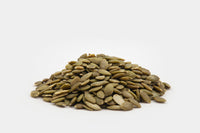 Pepitas, which means "little seeds of squash" in Spanish, may be small in size but are huge when it comes to packing in the health benefits! With a light and slightly nutty flavor, Pepitas are a great addition to salads, trail mix, granola bars or all by themselves as a healthy snack. We currently carry two varieties, Raw as well as Roasted / Salted. 
Pepitas are full of valuable nutrients, such as fiber, phosphorus and in particular, magnesium, which is lacking for most people on a western diet. They are also high in antioxidants, polyunsaturated fatty acids and can be an important addition to the diet of people suffering from certain health ailments, such as heart problems, high blood sugar levels and prostate issues. 
Order in "packs" and save 10%! We currently offer "3 pack" and "5 pack" options. If you'd like larger quantities, contact us via email and we will do our best to accommodate your request.