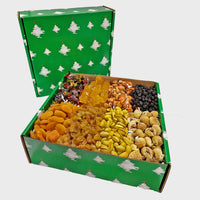 Looking for a unique gift idea? Try our Middle Eastern Gift Box, which is inspired by and celebrates the great, historic food cultures of the Middle East. 
Our festive, holiday gift box* comes packed with over four pounds of unique & delicious treats, each individually wrapped and ready to be enjoyed.
Items include Saffron Pistachios, Dried Sour Cherries, Mixed Nuts, Jumbo Golden Raisins, Saffron Rock Candy, Dried Apricots, Dried Figs and Fruit Rolls - Individually Wrapped (Lavashak).
While we will do our best to stick with the above mentioned products, based on availability, some of the items in the box may be substituted with a product of equal or greater value. 
*White box option available as well.