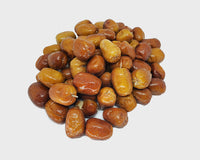 The Lotus Tree Fruit, also commonly known as Oleaster, Russian Olive or Senjed, is immediately recognizable by its vibrant color and unique texture. Often presented in different shades of brown or tan, the fruit has a shiny, yet wrinkled exterior with a fluffy and powdery interior.
Senjed is known for being a rich source of antioxidants as well as its immune system boosting qualities. It is also one of the seven items which are used in Haft Seen or the seven 'S's which is a traditional table setting of Nowruz, the Persian spring celebration. 
Order in "packs" and save 10%! We currently offer "3 pack" and "5 pack" options. If you'd like larger quantities, contact us via email and we will do our best to accommodate your request.