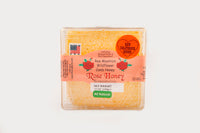 Lili Honey supplies only the richest in texture, most health beneficiary, and decadent tasting honey. Our honey ranges from 16 oz. to 50 oz. and comes in many unique and distinctive flavors influenced by Wildflowers, Jasmines, White Tupelo's, Star Thistles, and more. We offer enough honey varietals to satisfy the needs of every customer, including different forms of honey as well, such as liquid honey, cut comb honey, and comb honey.
Rose Wildflower Honey
Collected from wildflowers and plants during the summer when nature is in full bloom, Wildflower Honey is darker in color compared to other varietals of honey, which means it's rich in antioxidants, vitamins, and minerals. Not only is Wildflower Honey great for your health, but contains a hint of flowery aroma that will satisfy your senses. Because Wildflower Honey is liquid honey, containing added chunks of honeycombs, we call it cut comb honey. Naturally thick in texture, the delightful taste of Wildflower Honey tends to vary throughout the year, depending on the flowers that are dominant during that season.
Order in "packs" and save 10%! We currently offer "3 pack" and "5 pack" options. If you'd like larger quantities, contact us via email and we will do our best to accommodate your request.