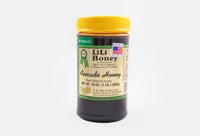 Lili Honey supplies only the richest in texture, most health beneficiary, and decadent tasting honey. Our honey ranges from 16 oz. to 50 oz. and comes in many unique and distinctive flavors influenced by Wildflowers, Jasmines, White Tupelo's, Star Thistles, and more. We offer enough honey varietals to satisfy the needs of every customer, including different forms of honey as well, such as liquid honey, cut comb honey, and comb honey.
Avocado Honey
Obtained from the nectar of avocado blossoms, this rare honey provides food, health and beauty benefits.  It is one of the most mineral rich (both rare and common mineral) honey on the planet. Avocado honey provides a unique rich and buttery taste.
Order in "packs" and save 10%! We currently offer "3 pack" and "5 pack" options. If you'd like larger quantities, contact us via email and we will do our best to accommodate your request.