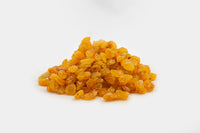 Our Large Golden Raisins are a wonderful, healthy snack due to their high nutrition value. They are widely recognized as one of the best dried fruits due to their high content levels of antioxidants, iron, potassium and fiber as well as their lack of cholesterol. 
Make sure to store your Golden Raisins in a cool and dark place, preferably in an air tight container. With the proper care, Golden Raisins can last up to 6 months under refrigeration.
Order in "packs" and save 10%! We currently offer "3 pack" and "5 pack" options. If you'd like larger quantities, contact us via email and we will do our best to accommodate your request.