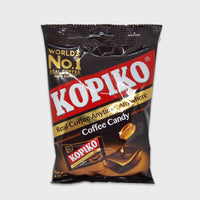 Kopiko – Your Pocket Coffee, Anytime, Anywhere!
 Individually wrapped coffee candy to fulfill you coffee cravings.
 Kopiko Coffee Candy is a popular candy made in Indonesia and Thailand, popularly sold around the world.
 Each Coffee Candy has about 4.4 mg of Caffeine
Kopiko uses real coffee extract to make their candies that are directly sourced from coffee beans in Hawaii.
Description courtesy of Takari.com