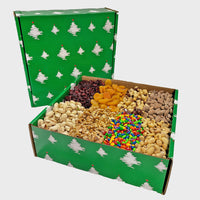 Pass along your holiday kindness with our Holiday Gift Box! Over four pounds of delicious treats are individually wrapped and packed into a joyful, Christmas Tree covered box sure to brighten anyone's day!
Our Holiday Gift box* includes Roasted and Salted Almonds, Dried Cranberries, Roasted and Salted Pistachios, Dried Apricots, Roasted and Salted Jumbo Cashews, Sunburst - Chocolate Covered Sunflower Seeds, Walnut Halves and Roasted Filberts.
While we will do our best to stick with the above mentioned products, based on availability, some of the items in the box may be substituted with a product of equal or greater value. 
*White box option available as well.