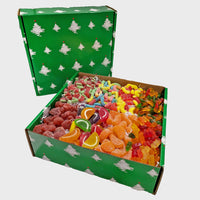 What better way to celebrate than a box full of candy? Our Holiday Candy Gift Box* is stuffed with over four pounds of sugary goodness, each in individually wrapped bags. 
Items include Gummy Bears, Gummy Worms, Sour Brite Crawlers - Gummy Worms, Gummy Watermelons - Gummy Candy, Jelly Fruit Slices, Peach Rings - Gummy Candy, Orange Slices - Gummy Candy & Dried Strawberries. 
While we will do our best to stick with the above mentioned products, based on availability, some of the items in the box may be substituted with a product of equal or greater value. 
*White box option available as well.