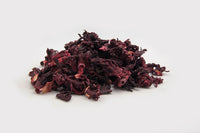 Hibiscus Flower Tea has long been a family favorite. Enjoyed the world over, Hibiscus Flower Tea has many names, such as Chai Torsh in Iran, Sorrel in South America, Rosella in Australia and Zobo in Africa. Naturally caffeine free, enjoy the relaxing, soothing and smooth flavors of Hibiscus at any time of the day or year, both hot or cold.  Hibiscus has a flavor profile similar to cranberries, with a distinct tart flavor and a beautiful deep crimson color that's irresistible to look at. Unlike most other tea's, hibiscus flowers can be steeped numerous times until the color begins to fade away. 
Hibiscus is very beneficial, containing high concentrations of antioxidants, has long been used to help lower blood pressure and boost liver health and to maintain healthy blood sugar levels. 
Order in "packs" and save 10%! We currently offer "3 pack" and "5 pack" options. If you'd like larger quantities, contact us via email and we will do our best to accommodate your request.