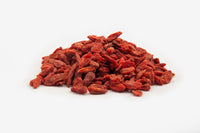 Organic Goji Berries, which are native to Asia and have long been used in traditional Asian Cuisine and medicine, have often been referred to as the anti-aging fruit and are considered a "Super-food" by many due to their numerous benefits. Naturally sweet with a mild taste, they are often used to make tea, added to other drinks or eaten as a healthy snack. Sprinkle them on top of your oatmeal or in cereal for an early morning boost!
Goji Berries are packed with powerful antioxidants & offer benefits for your immune system, skin, liver, kidneys and are a good source of amino acids. Make sure to consult your dietitian or health professional to see how adding Goji Berries can improve your diet. 
Order in "packs" and save 10%! We currently offer "3 pack" and "5 pack" options. If you'd like larger quantities, contact us via email and we will do our best to accommodate your request.