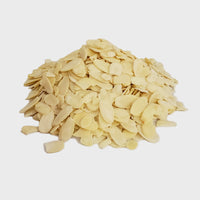 Our Blanched, Sliced Almonds are a great, healthy addition to all kinds of foods, from salads to desserts or to topping off your morning oatmeal. 
Almonds are native to the Mediterranean and Middle East regions, having long been a staple in the diet of Armenians, Iranians, Syrians and other historic cultures. Over time, the use and cultivation has expanded to northern Africa, southern Europe and most notably, to California, where a majority of the worlds Almonds are now grown. Most of today's commercially grown Almonds are of the sweet variety, and are considered a "Superfood" by many due to the vast nutritional benefits of including Almonds in your diet. Almonds are packed with vitamins, minerals, protein and fiber as well as being a fantastic source of antioxidants. Almonds are routinely used to assist with controlling blood sugar, blood pressure levels and cholesterol issues. 
Order in "packs" and save 10%! We currently offer "3 pack" and "5 pack" options. If you'd like larger quantities, contact us via email and we will do our best to accommodate your request.