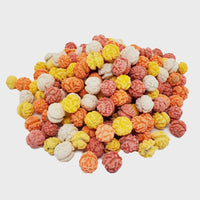 Roasted Chickpeas, also commonly known as Garbanzo beans, were originally harvested and used for culinary purposes in the Mediterranean and Middle East, but are now widely used throughout the food world.  Chickpeas are a wonderful source of protein, carbohydrates, folate and fiber, as well as minerals such as iron, phosphate, calcium, magnesium, manganese, zinc, and vitamin K.
Sugar Coated Chickpeas cover these healthy beans with a sweet coating for a unique snack that's popular for holidays such as Easter or to add some color to your snack tray. W
Order in "packs" and save 10%! We currently offer "3 pack" and "5 pack" options. If you'd like larger quantities, contact us via email and we will do our best to accommodate your request.