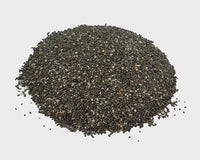 Chia Seeds are known to be among the healthiest foods on the planet! They are loaded with nutrients that are beneficial for your brain and body. 
First, a little bit of history. Chia Seeds were a very important food which was consumed extensively by the Aztecs and Mayans. One of the great attributes of Chia Seeds is the ability to pack in an enormous amount of nutrients with very few calories. They are loaded with fiber, protein, fat, calcium, magnesium, manganese, phosphorus as well as containing a decent amount of zinc, vitamin B3 & potassium. Additionally, they are a fantastic source of antioxidants and omega-3 fatty acids.
Chia Seeds are incredibly easy to incorporate into your diet since they don't have a particularly strong taste. Add them to your oatmeal, yogurt, pudding, baked goods & more to dramatically boost their nutritional value.
Order in "packs" and save 10%! We currently offer "3 pack" and "5 pack" options. If you'd like larger quantities, contact us via email and we will do our best to accommodate your request.