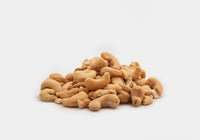 Cashews, native to northeastern Brazil, are now cultivated all over the world. The large, kidney shaped seed is found at the bottom of the cashew apple, which is the fruit of the cashew tree. If you haven't see pictures of this very interesting fruit, i recommend you google it! 
Cashews are high in protein, fiber and healthy fats. In addition to being a great snack by itself, cashews can be blended into butter, used as a healthy topping for salads and in many Asian dishes. 
Order in "packs" and save 10%! We currently offer "3 pack" and "5 pack" options. If you'd like larger quantities, contact us via email and we will do our best to accommodate your request.