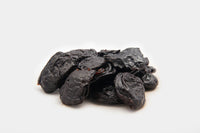 Prunes and Plums are extremely versatile and impressively high in nutrients. Juicy and sweet, they taste great and are ideal for healthy snacking or for cooking. Add them to a summer salad or blend them into a smoothie!
Prunes and Plums contain many vitamins and minerals, in addition to fiber and antioxidants. You can consume plums fresh or dried. 
We carry several different varieties of Prunes and Plums, including Black, Pitted, Sour and Golden, each with a unique taste and texture. 
Order in "packs" and save 10%! We currently offer "3 pack" and "5 pack" options. If you'd like larger quantities, contact us via email and we will do our best to accommodate your request.