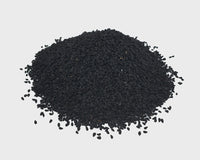 Black Caraway Seeds, also widely referred to as Nigella, have a distinctive, slightly bitter taste as well as a peppery bite, and are enjoyed as a spice in Egyptian, Indian, and Middle Eastern cuisines. They commonly used as an ingredient for Naan Bread. 
Other common names for these seeds are Nigella seeds, Nigella sativa, charnushka seeds, fennel flower, nutmeg flower, black-cumin, kalonji, and Roman coriander.
Order in "packs" and save 10%! We currently offer "3 pack" and "5 pack" options. If you'd like larger quantities, contact us via email and we will do our best to accommodate your request.