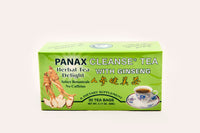 Panax Ginseng Herbal Cleanse Tea is a 100% natural herbal tea. It contains no preservatives, additives, or caffeine. This special herbal formula is uniquely blended from the highest quality herbs, whose value has been established and tested in the Orient for centuries. REMINDER: Due to the cleansing nature of this herbal tea, one may experience extra bowel movements for the first few days of usage.
Ingredients: 
Senna(Cassia Angustifolia)(Leaf), Green Tea(Camellia Sinensis)(Leaf), Genseng(Panax Quinquefolius)(Root), Hibiscus(Hibiscus Sabdariffa)(Flower), Rosehips(Rose Canina)(Fruit), Papaya(Carica Papaya)(Leaf), Peppermint(Menthe X Piperita)(Leaf), Cinnamon(Cinnamomum Cassia)(Bark), Stevia(Stevia Rebaudiana)(Leaf) 
Legal Disclaimer: 
Statements regarding dietary supplements have not been evaluated by the FDA and are not intended to diagnose, treat, cure, or prevent any disease or health condition.

Notice:
This product contains Senna. Read and follow directions carefully. 

Do not use if you have or develop diarrhea, loose stools, or abdominal pain because Cassia acutifolia Delile (Senna Leaf), Malva Verticillate may worsen these conditions and be harmful to your health. 

Before using this product, consult your physician if you are taking medication or have a medical condition. Consult your physician if you have frequent diarrhea. This product is not recommended for use during pregnancy, by nursing mothers, by elderly people or children. 

Directions:
Use one tea bag each time. Brew in one cup of boiling water for 5 minutes. Honey may be added to sweeten the taste. 

Suggestions:
Please use this tea or any herbal diet tea moderately, no more than one teabag per day is recommended.
Order in "packs" and save 10%! We currently offer "3 pack" and "5 pack" options. If you'd like larger quantities, contact us via email and we will do our best to accommodate your request.