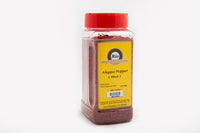 Aleppo Pepper, also known as Halaby Pepper, has long been used in Middle Eastern and Mediterranean cuisine. It was named after the northern Syrian city of Aleppo, but is now grown all over the region due to challenges of growing and exporting from Syria.
Aleppo Pepper is a rich burgundy in color, flaky and semi oily in look, bright, fruity and savory in taste and has a slow building heat that is not nearly as hot as red chili flakes. Traditionally, it has been used to season meats, beans and salads, and most famously as an ingredient in muhammara dip. 
You can mix in Aleppo Pepper with your favorite marinades and rubs, add it to your salad or even sprinkle some on top of your pizza. 
Order in "packs" and save 10%! We currently offer "3 pack" and "5 pack" options. If you'd like larger quantities, contact us via email and we will do our best to accommodate your request.